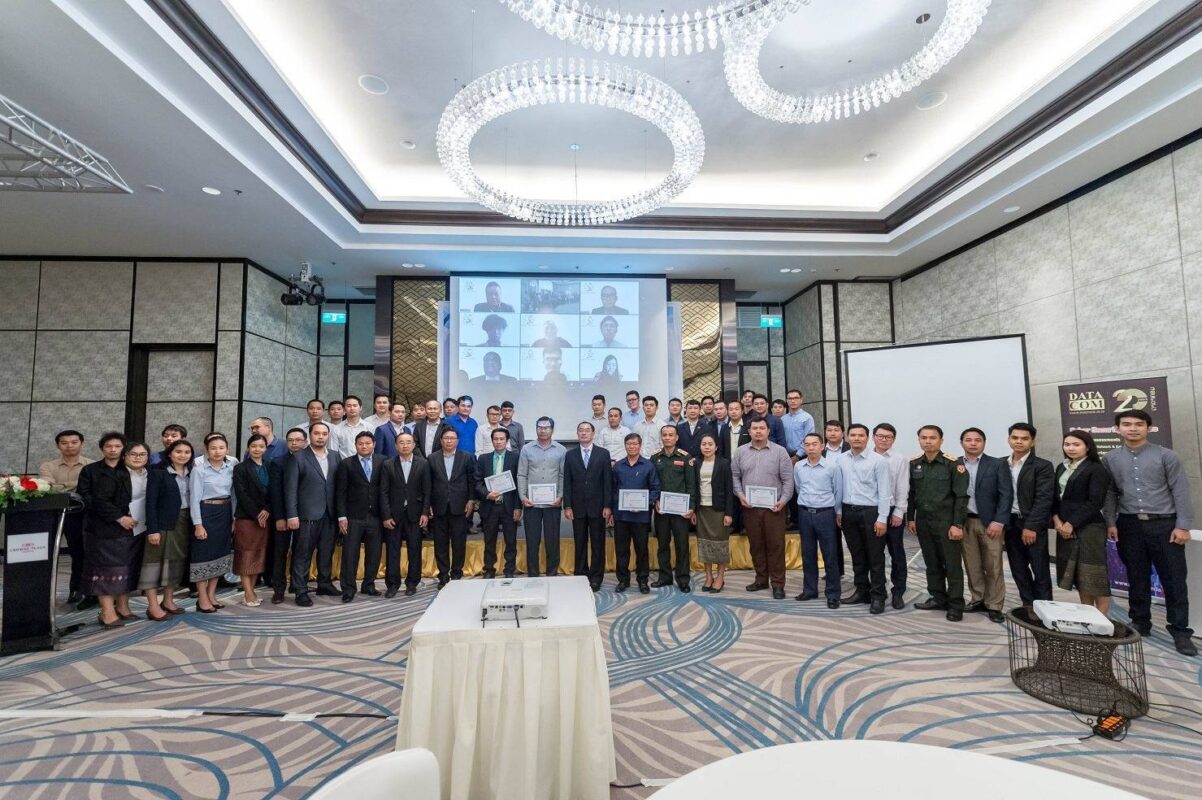 Vientiane, LAO PDR  (24 February 2021) — Following the success of their first Lao seminar on cyber threats last November, Singapore-based S.A. Investment Holdings Pte Ltd (SA) has once again teamed up with local partner, Datacom Co. Ltd, along with Lao Computer Emergency Response Team (LaoCERT) and Lao ICT Commerce Association (LICA) to spearhead a campaign to raise the awareness of the cybersecurity challenges facing the Republic as a result of the COVID-19 pandemic. Representatives from 23 Lao ministries attended this event, including invited guests from telcos and the media. One of the event highlights was the presentation of zIPS (Zimperium® mobile Intrusion Prevention System) licenses to the government bodies represented, an initiative fronted by SA under its Frontline Heroes Protection Programme. 
The Lao Ministry of Posts & Telecommunications recognises the threats to cybersecurity, in particular, mobile security and the risks of mobile threats. Nearly 80% of Laos' 7.33 million population have a mobile connection and statistics show that nearly all social media access and 71% of total web traffic are via a mobile device. Frontline Heroes Protection Programme is designed to protect government personnels' mobile devices with Zimperium's zIPS app for real-time, on-device mobile protection. 
 

Mr. Thanongsinh Kanlagna,
Executive President of Datacom Co, Ltd. 

According to Mr. Thanongsinh Kanlagna, Executive President of Datacom, "The goal towards a safer cyber-environment in Laos is only possible if we recognise the threats around us, especially in the area of mobile security. This is one device that we carry around with

us for work and personal use…it's something most of us can no longer do without."
Mr. Khamla Sounnalat, Director General of LaoCERT, representing the Ministry of Posts & Telecomunications, further emphasised Mr. Thanongsinh's views, "The surge in mobile usage for business connectivity, e-commerce and social interactions will continue to shape the cybersecurity landscape in Laos.

Mr. Khamla Sounnalat, Director General of LaoCERT


While it is important for every citizen to recognise the threat of mobile device attacks, it is especially crucial for the public sector to take the lead in implementing the best tools to safeguard ourselves and to adopt mobile security throughout our operations. We need to build a security-conscious community where the

privacy and security of our data is assured and this starts with the public sector."

SA called upon one of its principals, Zimperium, to be part of a panel to address the importance of mobile security, and to demonstrate how zIPS works effectively to protect any mobile device. Previously an enterprise-only product, SA brought zIPS to the consumer market to allow individuals the opportunity of enjoying a risk-free mobile environment where their data and privacy will be protected.  SA's Frontline Heroes Protection Programme falls under the auspices of its H.O.P.E (Helping Ordinary People Everywhere) initiative. Due to the onset of the global pandemic, SA developed the Frontline Heroes Protection Programme to acknowledge the efforts of the Lao medical profession, government bodies, law enforcement agencies and essential services workforce who serve in the frontline against the battle with COVID-19.
"SA is heartened by the forward-thinking stance adopted by the various Lao ministries represented. Their support acknowledges the awareness of the need for greater cybersecurity, and expresses the awareness that frontline personnel and the greater community require mobile security. We are pleased to offer zIPS through this Frontline Heroes initiative to meet this exact objective," says Mr. Ainsley Jong, SA's Executive Director.

Panel Discussion on Cybersecurity Challenges During COVID-19 & Mobile Security 
# # #
For more information, kindly contact: